About Bandhavgarh National Park
Bandhavgarh Tiger Reserve and its wildlife
"No matter how far you journey, you are always on home ground on Mother Earth. And for her hospitality, She demands so little. That wherever we travel, we respect her landscapes, conserve her resources, value her local traditions. It is only if we travel this way that we can gift our children the same green, generous planet to explore."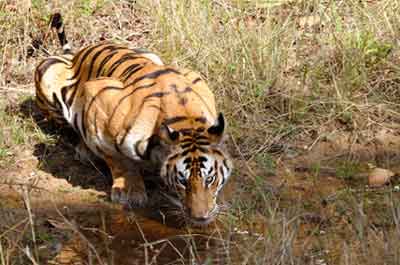 Bandhavgarh National Park was established in 1968 as a National Park, and is spread over an area of 1150 sq. kms. This national park was declared as a tiger reserve under Project Tiger in the year 1993. It is predominantly covered with vegetation like SAL, SALI, DHOBIN and has vast stretches of grasslands spread over 32 hills, the region though smaller than other wildlife parks has one of the highest density of tigers in the world. Bandhavgarh was earlier the hunting reserve of the Maharajas of Rewa, the region was a major hunting ground of animals where Maharaja Raman Singh himself shot a stupendous figure of 111 tigers by 1914. Bandhavgarh also became world renowned for its population of rare white tigers. The park derives its name from the most prominent hillock of the area, which is said to be given by Hindu Lord Rama to his brother Lakshmana to keep a watch on Lanka (Ceylon). Hence the name Bandhavgarh (Sanskrit: Brother's Fort).    
The vegetation is chiefly of Sal forest in the valleys and on the lower slopes, gradually changing to mixed deciduous forest on the hills and in the hotter drier areas of the park in the south and west. The wide valleys along the streams carry long linear grasslands flanked by Sal forests. Rich mixed forests consisting of Sal (shorea rubusta), Saja, Salai, and Dhobin etc. with dense bamboo thickets occur in many places. These together provide Bandhavgarh its rich biodiversity. With the tiger at the apex of the food chain, it contains 37 species of mammals, more than 250 species of birds, about 70 species of butterflies, a number of reptiles. The richness and tranquility of grasslands invites pairs of Sarus Cranes to breed in the rainy season. One of the biggest attractions of this national park is the tiger (panthera tigris tigris) and its sightings. Bandhavgarh has a very high density of tigers within the folds of its jungles. The name Bandhavgarh is derived from the word 'bandhav' meaning brother and 'garh' meaning fort. According to Legend, Lord Rama was passing through these forest after defeating Ravana. He decided to build a fort here and gift it to his devoted brother Lakshman. Several historical monuments and twelve large water tanks are scattered around this 580 acres Fort and in other areas of the park.
The importanat mammals are
Tiger
Leopard
Jungle Cat
Small Indian Civet
Large Indian Civet
Wild Boar
Chinkara or Indian Gazelle
Nilgai or Blue Bull

Cheetal or Spotted deer

Sambhar deer

Chausingha or Four Horned Antelope

Kakar or Barking deer

Ratel

Sloth Bear

Porcupine
Dholes or Wild Dogs
Striped Hyenas
Golden Jackals
Small Indian Mongoose
Large Indian Mongoose
Wolf