About Kings Lodge
Kings Lodge is an eco-luxury, wildlife resort by Pugdundee Safaris located in the heart of Bandhavgarh National Park. Surrounded by two lush Sal hills in the majestic Bandhavgarh National Park and straddled in the lap of the sylvan and flourishing Rancha village; Kings Lodge offers discerning travellers the very best of luxuriant living in the depths of wilderness.
Our 14 hectare, natural forested estate is situated in the heart of tiger country. Kings Lodge is a 10 minute drive from the Tala gate, and lies in close proximity to the other park gates of Bandhavgarh National Park. Yet, it is idyllically located to offer serene quietude and tranquility in the midst of a thriving forest.
Kings Lodge is single use plastic free wildlife lodge and we offer our guests a befitting experience of being in an expansive woodland which is 95% forest. Not a single tree was felled to create this wilderness haven. On the contrary thousands of different varieties of trees were planted to create a residential forest.
Luxurious Living in Bandhavgarh
The cottages at the Kings Lodge, Bandhavgarh are spread over an expansive and thriving forest cover, ensuring the perfect blend of solitude and solace.
Here's a peek into our eco-luxury cottages:
Air-conditioned with plush double beds and inviting crisp cotton linen.
Complimentary housekeeping service two times a day.
A sprawling sit-out verandah to enjoy stunning foliage and landscape.
A writing table and chair to let the muse flow.
Well appointed, sturdy and comfortable furniture made from recycled wood.
Sustainably sourced and packaged tea bags. coffee, sugar and creamer in glass dispensers. Freshly baked cookies from our kitchen. A French press and hot water kettle.
Bathrooms with 24 hour hot and cold water, modern amenities and organic toiletries in glass jars.
Eco-friendly construction and eco-sensitive waste disposal systems.
The cottages are designed to blend with the surrounding landscape and the architectural style is quaint and rustic.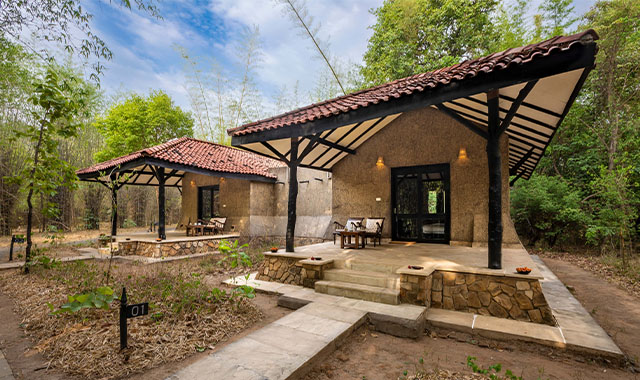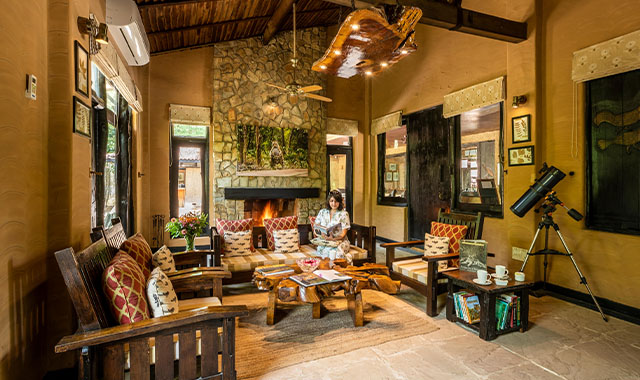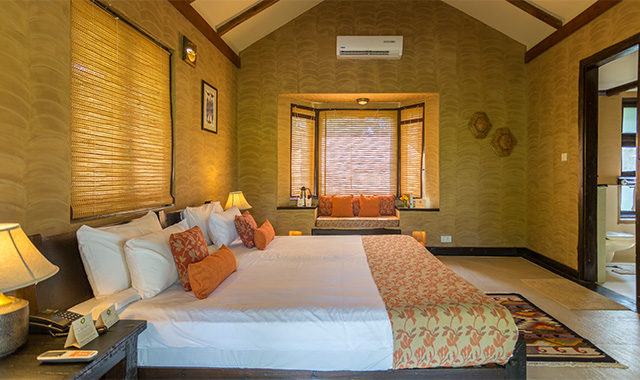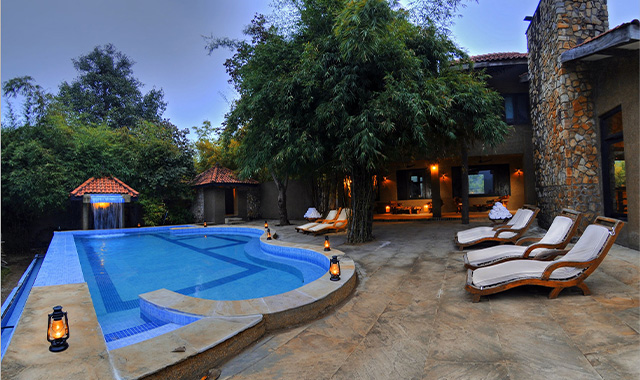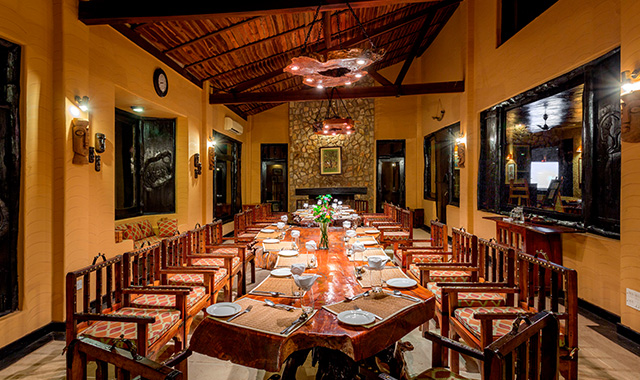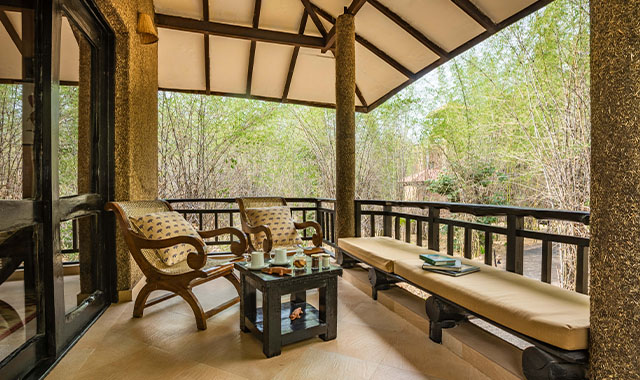 Activities in Bandhavgarh National Park
Our Sustainable Food Story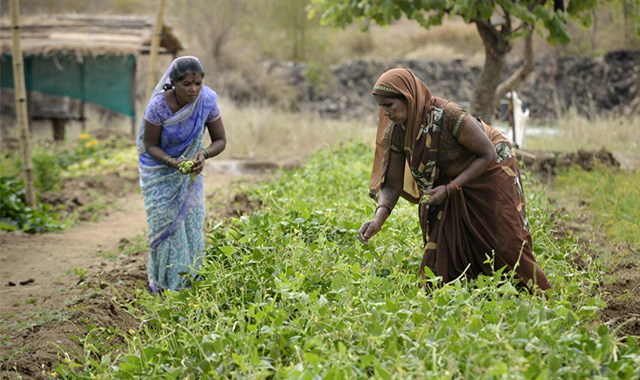 We offer our guests impeccable and sustainable food that is farm fresh, locally sourced. We are single-use-plastic free and have done away with bottled water, tetra packs, sachets, plastic straws, and a lot more. The food that you eat at Kings Lodge, and all our other lodges is sourced locally. And prepared in our scratch kitchens.
We are committed to our "farm to table" philosophy. Our organic kitchen garden provides fresh food produce for the day that includes herbs, spices and vegetables.
We reduce miles and transport costs and in effect our carbon footprint as well; by sourcing food ingredients from local farmers, and buying from local markets, as much as possible. This supports them, while ensuring we stay true to our sustainable living practices.
Explore Bandhavgarh National Park
Bandhavgarh national park is one of the famed tiger abodes of India, homing more than 75 tigers. Spread across a sprawling forested area of 1156 sq. km., Bandhavgarh National Park is known to have one of the highest density of tigers in the world. Bandhavgarh National park is located in the Umaria district of Madhya Pradesh, in Central India. It is surrounded by the undulating Vindhya hills that are spread over thirty-two rolling hills, untamed grasslands and thriving, sylvan meadows.
Meet the Team
The Kings Lodge team is a talented crew of passionate wildlife and nature enthusiasts who believe in positively impacting our guests, and the planet at large.
Our teams across lodges are drivers of change and progress. They work tirelessly to ensure Pugdundee Safaris impeccable standards of responsible, eco-sustainable tourism model is maintained, while inspiring the local communities.
Our aim is to ensure, the guests who visit us return back home feeling deeply connected with nature. And in turn they are inspired to become ambassadors for wildlife and conservation.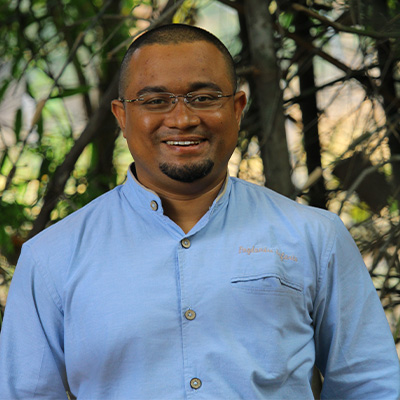 Prasanta Kumar Sarmah
Lodge Manager
Prasanta leads the Kings Lodge Team, and brings with him over 15 years' expertise in the Hospitality Sector, which includes African and Indian Safari Lodges, Business Hotels, Island and Hill Resorts.
His vast experience in core operational areas, he has been a hotel administrator for a decade.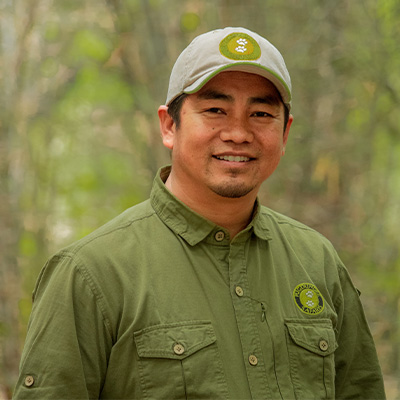 Raju Gurung
Head Naturalist
Raju has grown up in Chitwan, Nepal's favorite Wildlife Destination. Raju is specialized on Birds and very well known for his ability to track the Wild Cats.
His journey with Kings Lodge began in 2014 and since then Bandhavgarh is his second home.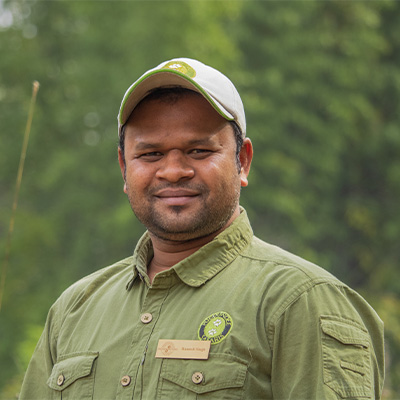 Ramesh Singh
Naturalist
Ramesh calls the Jungle his home, as he was born in Tala in Bandhavgarh and has grown up in the jungles of Bandhavgarh.
He is specialized in Trees and very good at tracking Big Cats. Ramesh brings with him over 12 years of wildlife experience.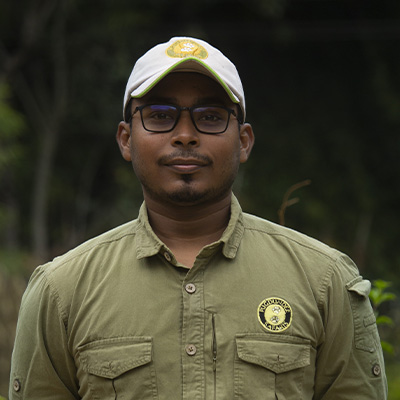 Priyabrata Das
Naturalist
Priyabrata brings with him 6 years of experience as a Naturalist in various National Parks on India, including Pench and Kanha National Park in Madhya Pradesh and Nagzira National Park in Maharashtra.
He is a reptile lover and rescued many snakes in different parts of India.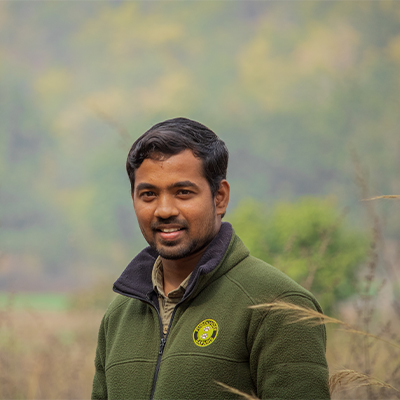 Pratheek K.S.
Naturalist
Pratheek was born and brought up in the foothills of Western Ghats of Karnataka. He spent his childhood in this rich biodiversity paradise.
He pursued his Graduation in Forestry from Coorg and continued his passion for wildlife by joining as Naturalist at Pugdundee safaris as his first job at Bandhavgarh .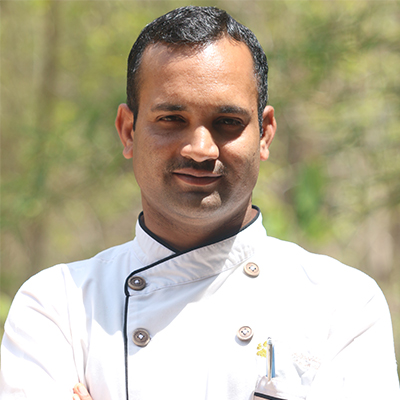 Nopat Singh Shekhawat
Chef
Nopat is a multi talented chef with 16 years of experience in providing satisfying culinary experience through his range of food.
He has worked with renowned city names in the industry before making a move to a wildlife resort. He likes to pamper our guests with his prowess in international cuisine and doesn't miss a chance to display his passion for Rajasthani cuisine, every now and then.
Contact our Safari Specialist