Our Sustainable Food Story
We offer our guests impeccable and sustainable food that is farm fresh, locally sourced. We are single-use-plastic free and have done away with bottled water, tetra packs, sachets, plastic straws, and a lot more. The food that you eat at Kings Lodge, and all our other lodges is sourced locally. And prepared in our scratch kitchens.
We are committed to our "farm to table" philosophy. Our organic kitchen garden provides fresh food produce for the day that includes herbs, spices and vegetables.
We reduce miles and transport costs and in effect our carbon footprint as well; by sourcing food ingredients from local farmers, and buying from local markets, as much as possible. This supports them, while ensuring we stay true to our sustainable living practices.
We blend our own tomato purees, and sauces, bake our bread, prepare fresh juices, make ice tea from scratch using loose tea leaves, and grind coffee beans ourselves; to ensure our guests are served clean, healthy, natural and fresh food options.
We believe in keeping the regional, authentic recipes alive - these are the recipes of the regions and communities we coexist with, across our lodges. We delight in offering our guests a taste of local, and regional flavors, distinctive to Bandhavgarh.
Dig into the exclusive, local flavors of a Baiga Thali, inspired by the tribal food of Bandhavgarh specially prepared for you.
Baiga's are the indigenous tribes that live in the periphery of the forests of Bandhavgarh and they maintain the ethnicity of the forests and revere the earth as their mother. Their meals include various millets and they use the Mahua tree as an all purpose natural product.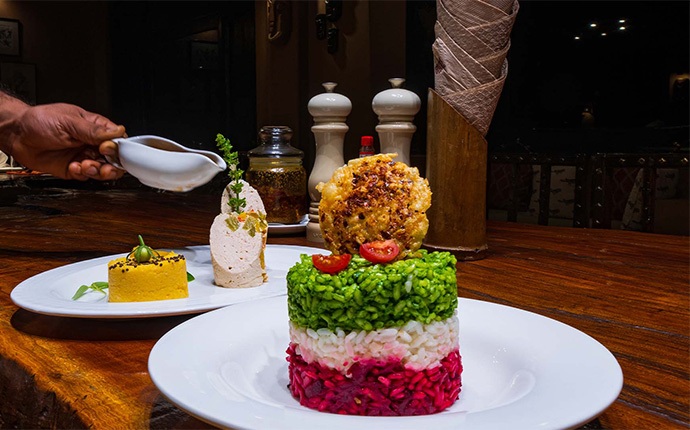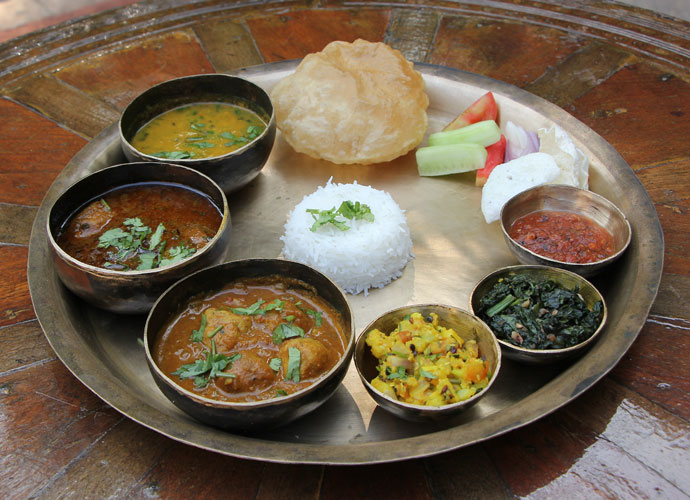 A typical Baiga Thali may include, and some more
Desi Bhaji (Saag- Leafy vegetables), Aloo Chokha (Mashed Potatoes), Lehsoon- Tamatar (Garlic and Tomato) ki Chutney, Pan Vada or Alu Bahta, Gaon Wali Desi Dal (local Daal/pulses), Kacche Masale ka Murgh (Chicken prepared local style), Mahua ke Puri, Aloo Papad, Ghee Chawal, Raw Salads (Cucumber, Onion, Tomato, Carrot), Sattu ka Sherbat.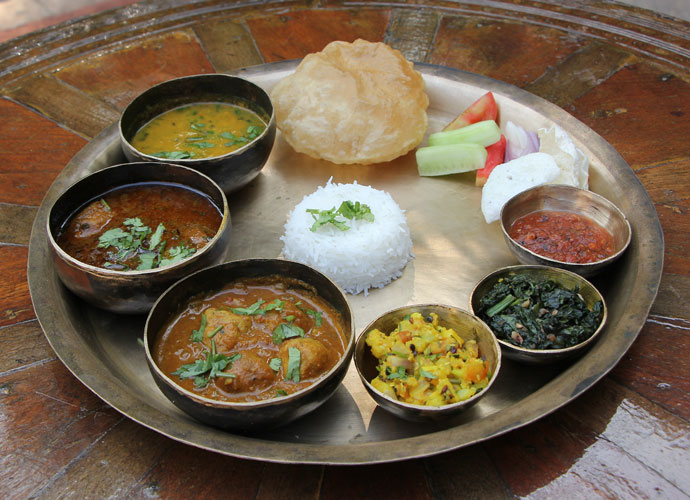 Forest Grill under a Sky Full of Stars
Enjoy an intimate and exclusive Bush dinner, or a post safari romantic date with your partner, or your loved ones at Forest Grill, our barbecue haven.
As our chef fires up a barbecue and a host of flavours, get ready to experience the beauty of the star studded sky or, a cultural performance by the local Baiga tribe.
Shake a leg or two with them, or simply tune in to the night sounds. Get ready to be transported into a world lesser known, as the effortless sounds of the drums, merge with the hypnotic hymns of the forest.
A Baiga cultural performance and an interaction with the Baiga community can be fixed on prior requests with us at Pugdundee Safaris.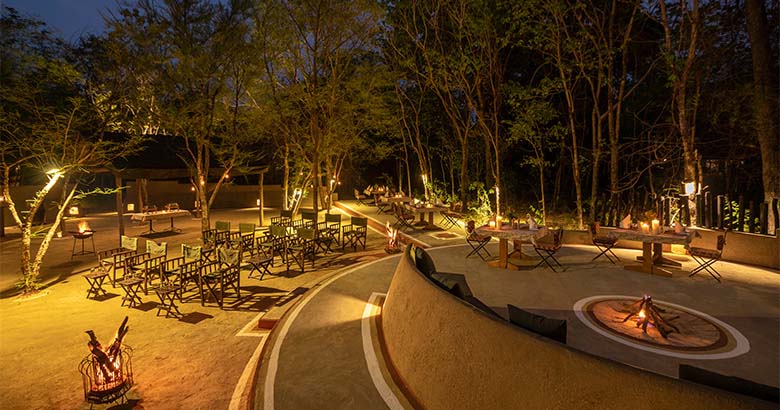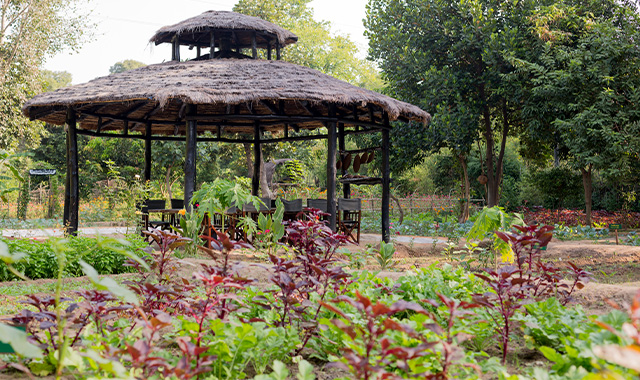 Majestic Meals at our Organic Farm
Let time slow down. Enjoy a meal, or breakfast in our Organic Kitchen garden, surrounded by a bounty of fresh greens.
Celebrate the joys of a digging into freshly rustled up meals, ingredients of which in all possibility are sourced from the garden.
Take copious breaths of the crisp forest air, as the multihued butterflies, from the adjoining Butterfly garden flint around, charming you with their flights of fancy.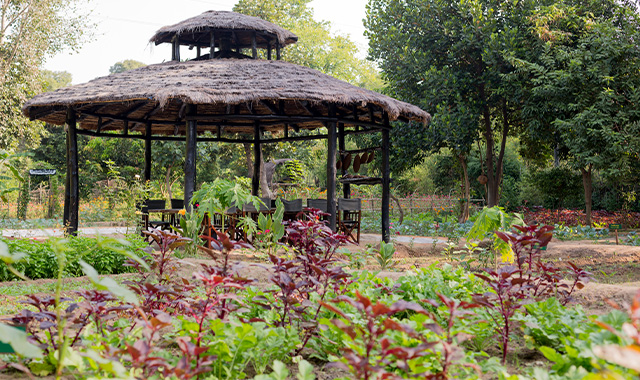 The Kings Breakfast at Kings Lodge:
The breakfast spread is a mix of Indian and global favourites along with fruits, fresh tea, and coffee that go well with our freshly prepared bakery items. Our guests can relish the perks of an alfresco breakfast, either at our organic garden, or while on a jeep safari. We serve a magnificent spread of breakfast on our safaris, that are sustainably packed and served.
Lavish Lunch includes chef's special of the day, or lip smacking local fare. Laidback Dinners is an eclectic mix of local, Indian and global fare which can be arranged at different locations. Dine at the main dining hall, where you can bond over your forest adventures from the day with your other cotravellers, if you please.
Savour dinner "Under the Stars" at Forest Grill with our chef dishing out a lip smacking fare. Or, simply soak in the joys of an adventurous Bush dinner swaddled in the lap of wilderness. These bespoke dinner experiences can be booked on prior request.
Gypsy Bar is the outdoors bar at Kings Lodge, cradled in the fringes of our expansive forested estate. It is a well stocked bar with a wide array of drinks to choose from, and offers our guests different, unique flavours, including the Mahua cocktail.
Do let us know of any specific dietary requirements or allergies at the time of booking. Our team is more than happy to curate menus accordingly for you and your loved ones.